Fire & Rescue Success Story
Case Study - West Midlands Fire Service

How WMNow came to the rescue of West Midlands Fire Service
West Midlands Fire Service (WMFS) consults with the public and stakeholders every three years, to get feedback to help them formulate their Community Risk Management Plan. It is also an opportunity to engage with communities and explain the wide-ranging work of a fire and rescue service.
Under 'normal' circumstances, the consultation would include face-to-face engagement in communities – for example in people's homes, at events and at shopping centres. But COVID-19 meant that the service needed to place an even greater emphasis on its digital and online engagement, to help keep communities safe and ensure that it's staff could remain able to deliver core services.
WMFS turned to
WMNow
to help them achieve this. The online community messaging system for people in the West Midlands is part of the national Neighbourhood Alert platform.
It incorporates a clever survey tool which enabled the WMFS team to share their consultation survey with around 80,000 people. Some 4,000 of them responded in the first two days!
Targeted reminders, sent only to those subscribers who hadn't started or completed the survey, later generated a further 7,000 responses. And, from the survey tool, they could see that 88% of responses were as a direct result of a WMnow subscriber receiving an alert from the WMNow platform.
The number of responses was near double that of WMFS's last public consultation
.
Will Doolan, who leads on Community Risk Management for WMFS, told
VISAV Ltd
, the company that own and power WMNow:
"At a time when we needed to avoid physical, face-to-face engagement with the public, apart from where essential to our work, WMNow allowed us to reach way more people than we thought possible.

Whilst our staff still did all they could to encourage our communities and partners to take part, and while we promoted our consultation via our website and social media, WMNow was instrumental in achieving the high level of responses we did.
"
Click here to learn more about West Midlands Fire Service
.
---
Case Study - Bedfordshire Fire & Rescue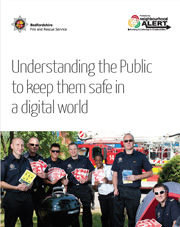 Click the image or
here
to download an overview that describes how Bedfordshire Fire & Rescue Service use
www.bedsfirealert.co.uk
to effectively engage with residents from diverse backgrounds aiming to reduce fires and road traffic collisions.