Humber Talking
Target Recruitment, Improve Representation, Gather opinion, Access Results and Inform based on local issues
The "Humber Talking" project by Humberside Police utilises our Targeted Engagement Suite of products which enable an evidence based, targeted approach to door to door recruitment whilst delivering a local priority survey and the ability to access and understand the results and deliver targeted, issue based information to the public.
Overview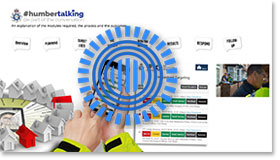 The presentation linked
here
and by clicking the image provides an interactive explanation of the various tools, roles and results achieved in Humberside.
Team Planning
Various data sets can be compiled and matched against the national AddressBase register in order to identify postcode areas that are most likely to return the most effective use of PCSO and Neighbourhood team time. Priority targets can be compiled based on Crime hotspots, Under represented ethnic communities (Origins) or Socio-Demographic (Mosaic / Acorn) profiles. Mapping target tools show the current picture and the profile of registered members in order to demonstrate the under-represented communities in a simple, easy to manage interface.
Live Target Lists
When the general area (postcode) planning is done, the teams of officers, volunteers and partners are able to work through a real time target list of addresses around their location.

The target list records interactions at each door and updates the responsive list based on actions taken by any team member. Example list updates include removing an address after 17:30 if no one is in and removing it for six months if the respondent declines to register or take a survey. Citizens can be quickly registered on the system and/or take a short survey, if they are pressed for time, the officer can take an email address and an email will be sent with an explanation.

All team members can see the previous interactions at the doorstep and addresses of registered members, recent survey participants, empty homes or those that have declined can be hidden so time can be spent more efficiently focusing on homes that have not been contacted yet. In addition, addresses that evidence suggest are from under-represented communities are highlighted as priorities to make contact with.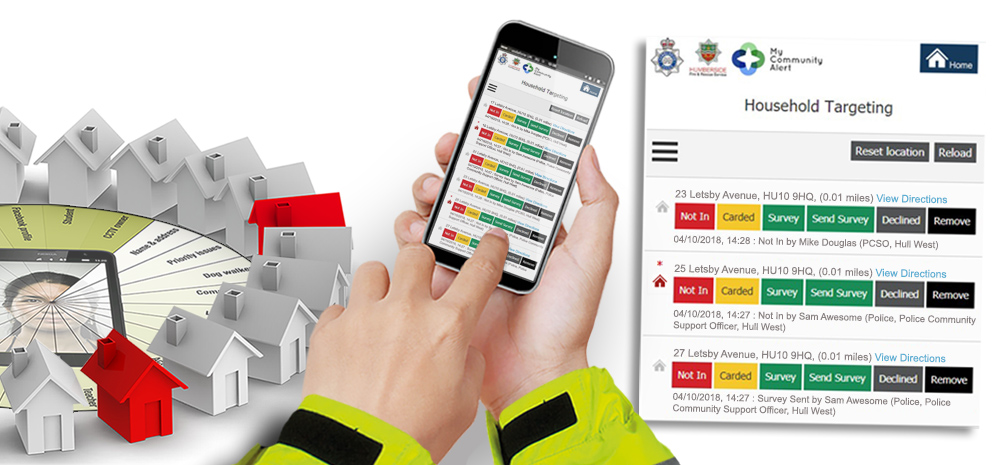 Measure activity
The door to door interactions and the activity of front line Neighbourhood police performing the engagement activity can be measured in near real time maps. This enables better planning when deciding when to approach different areas and training requirements.


Access Results
Results can be quickly accessed, mapped and managed


Accessing results and sending messages
Importantly, Neighbourhood Policing teams can access the survey results from anywhere and send messages directly to respondents based on the issues they have raised.
You said, we did
Alert then enables centralised admin and Neighbourhood officers whilst out and about, to quickly access the current feedback and issues for people in any area. Messages can also instantly be sent to people in the local vicinity based on the current issues they are concerned about.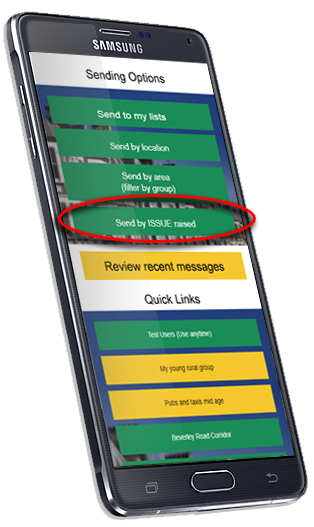 Automated, low admin follow up surveys
Phase II of the Humberside development will automatically deliver a follow-up survey based on respondents' answers and ask them more about the issue they raised. This service provides confirmation that the respondents views are valued and have been acted on. Importantly the simple follow up survey asks the respondent to more accurately isolate the location of particular issues that they have identified such as Fly tipping, Graffiti or Drugs etc. Issue location evidence provided by the system can be used to assist in partner planning meetings to identify actual concerns, locations and numbers effected.



Explanation about the development of and use of Humber Talking: http://www.screencast.com/t/p1tPPOvVf7iP
Humberside Police promotion video describing Humber Talking: https://www.youtube.com/watch?v=PoZ4ROWCOm8
Humberside Police website page explaining the progress so far: https://www.humberside.police.uk/news/humber-talking-%E2%80%93-you-said-we%E2%80%99ve-listened-and-we%E2%80%99re-already-acting
What is required?
To deliver your own version of Humber Talking you need an Alert licence and the following modules:
Community View survey tool, to be able to send surveys both in the system, from social media and door to door.
Origins Ethnicity database, to be able to know the probably ethnicity of the population in each area and measure the change in under/over representation of those communities
Local Engagement Overlay, this provides a planning tool showing the most effective postcode areas to send staff to, lets you identify people on a map by ethnicity and by survey response and feeds specific priority addresses to the list of addresses given to PCSOs to visit.
The
Local engagement Map guide
shows how the data can be accessed
Optional Solutions
Two additional other optional modules add value to the solution:
Stats Package
A custom dashboard that delivers a wide range of custom reports that monitor the work undertaken by each officer when out and about delivering surveys. Reports can include success rates, maps of areas visited, top performers etc. View more details regarding available dashboards here.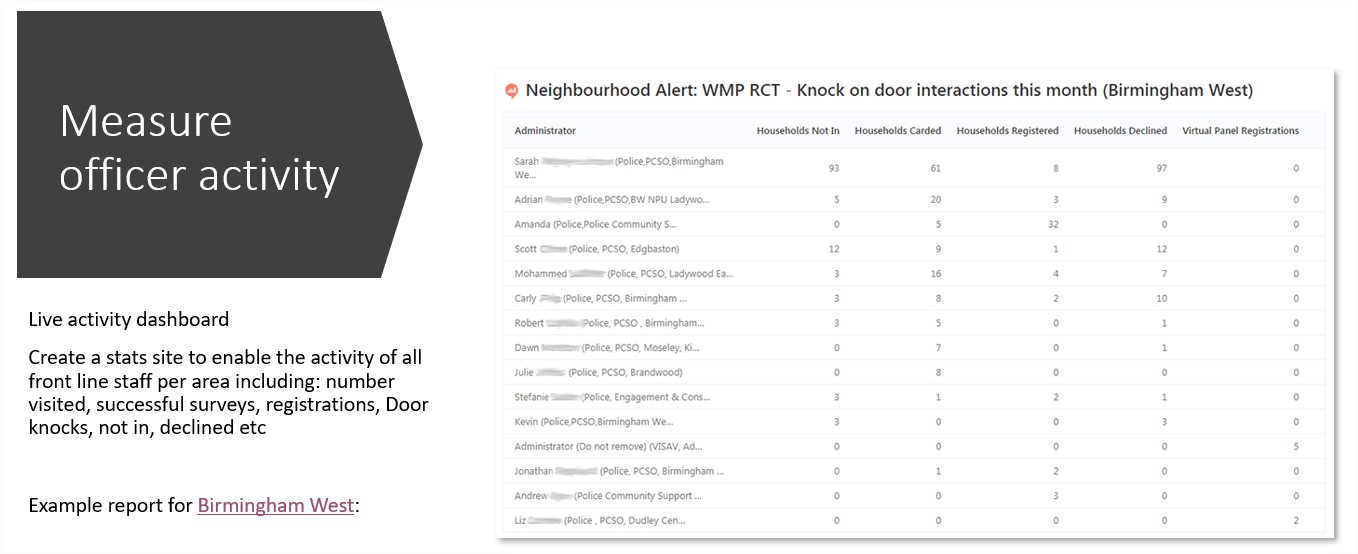 Translation tool
This automatic system enables any user to respond to a survey question and request an "additional language". The emails they then receive with then automatically include a disclaimer and a translation of the message into one of 100 available languages. Replies can be instantly detected and translated into English. This service has been shown to increase trust in the police by people whose first language is not English by 65% (View the WMP Stats
here
).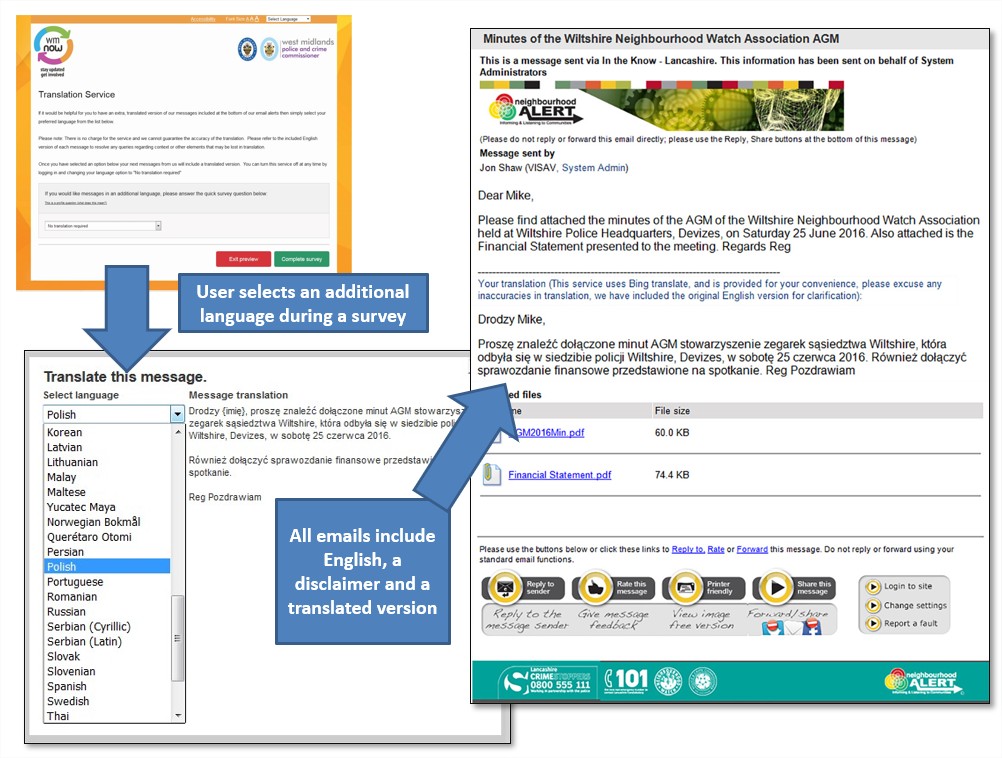 ---
In Practice
Derbyshire, Durham and South Yorkshire Police services have adopted the Humber Talking model with their own versions of the Neighbourhood Alert enhanced survey tool. This short video is from a testing/training day in Glossop where the team gave feedback after trying the approach for the first time.
---
Sharing Best Practice
On the 6th September 2019, Humberside Police hosted an open day for other police services to attend in order to see how the enhanced survey tool is being used and why it is having such a big impact on public confidence. The following short video is a summary of the event.
---
Targeted Messaging & the Humber Talking Journey Presentation
On the 26th March 2021, VISAV hosted the Neighbourhood Alert virtual conference. During this conference, Humberside Police Chief Inspector Paul French shared his thoughts on the Humber Talking Journey so far.
The Lancashire Talking Journey
On the 26th March 2021, VISAV hosted the Neighbourhood Alert virtual conference. During this conference, Neighbourhood Policing Development Manager at Lancashire Police
Martin Selway
shared his thoughts on the Lancashire Talking Journey so far.