Intensive Support
Over the past 10 years we have worked with many police forces to help them integrate and operationalise their version of Neighbourhood Alert (Alert).
To do this successfully and consistently can be a challenge for force communications teams and project leads as they often have so many other jobs to cover. A decade of evidence shows that overcoming I.T., organisational and comprehension obstacles that hinder operational police in their adoption of, yet another system, is vital.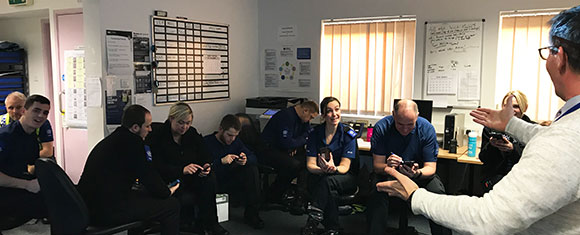 New Intensive Support Package to Reinvigorate your Teams
This new package is designed to accelerate and reinvigorate the adoption of the Alert community engagement tools across Neighbourhood and Community policing teams, with a month of intensive support, training and reporting.
With the backing and ability for us to work closely with a senior officer, you will see more of your staff making the most out of the system and more of the community signed up to receive messages.
Policing team structures will be established, and a baseline public survey conducted to measure success. Community group set-up will be realigned to reflect your current focus and strategy.
An emphasis on establishing both an active and representative connection with active citizens will provide a return on your investment in both increased value and demonstrable strides towards HMIC legitimacy targets.
Message feedback immediately after a training session in Grimsby
For more information, please download the
information sheet
or contact
support@neighbourhoodalert.co.uk