Geoff Pegg, SCAMBassador and Director of Operations of Wycombe District Neighbourhood Watch Association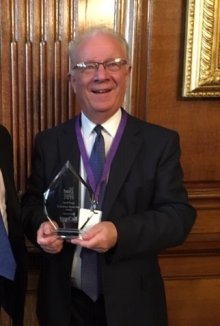 Geoff said of the MSA role, "Becoming an MSA came about as a result of Val McPherson, then Chair of Thames Valley NHWA, asking me to do so. This was particularly valuable as it gave me full access to the database re our Co-ordinators etc and it also enabled me to send out my own Alert messages which I do to this day on a very regular basis – every few days."
And when I asked Geoff why he devotes so many hours to this role, he answered, "I have thoroughly enjoyed my 22 years in NHW and particularly in being able to give crime prevention advice to very many members of the public, with due emphasis on the huge subject of cons & scams."
Geoff led his team to help increase awareness of the diversity of fraud and scams in 2017. The initial presentation covered doorstep crime, postal scams, telephone issues and cyber-crime to a packed hall. To date Geoff has held 77 sessions and was rewarded by Friends Against Scams (part of National Trading Standards) by being made a SCAMbassador and also received a "Hero" award on behalf the Chartered Trading Standards Institute at an awards ceremony in Westminster
How it began
Geoff originally became involved in Neighbourhood Watch (NHW) in May 1998 when he was appointed the Co-ordinator in charge of a new scheme for the 44 houses along the road where he lived in High Wycombe and which was suffering from frequent petty crime and anti-social behaviour incidents interspersed with a few more serious incidents. Fortunately, the NHW scheme was the key to eliminating these problems.
Since 2000, Geoff has started 524 new schemes in the Wycombe District involving 913 Co-ordinators and has also signed up many new Co-ordinators to add to existing schemes. He pioneered the idea of general NHW meetings with invited speakers on key crime and well-being topics and has arranged 47 of these meetings since they started in 2001.
Geoff has many accolades and highlights in his community career including being instrumental in bringing together the various elements for Wycombe District Neighbourhood Watch Association (WDNHWA) to be nominated and accepted for the Queen's Award for Voluntary Service, which was presented at a ceremony on 18 September 2019. This award is the equivalent of the MBE for voluntary organisations.
Geoff was photographed when he received his Hero award from the Chartered Trading Standards Institute and has also been used to promote his work as a SCAMbassador on the
Friends Against Scams website
.
< Back to MSA stories