Jane Brown, South Buckinghamshire MSA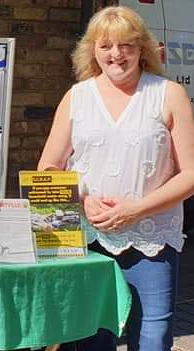 Jane told us, "I have been a Coordinator in my current road for 12 Years and an Area Coordinator for the Ivers for 5 years. I have lived in Iver Heath all my life so it's great to give something back.
Using information from the many contacts I have made over the years, I am able to share crime awareness, crime prevention advice and updates from the police.
For me it is all about Care, Community & Communication.
Jane's photo is from Neighbourhood Watch Week 2019, outside the Iver Parish Council where she had arranged a Drop In Event. Jane was joined by the then South Bucks District Community Safety Team: PCSO Benawra from our Neighbourhood Policing team and a local company who install CCTV – CamSec
< Back to MSA stories